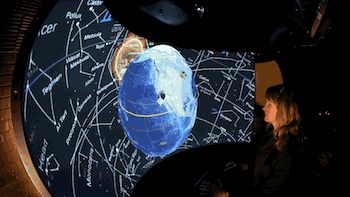 Created for use in Elumenati's GeoDome immersive environments, Worldviewer is a tool that allows users to easily author interactive presentations while incorporating up-to-date multimedia content from a variety of sources. The WorldComposer content authoring platform is easy to learn and simple to use, allowing educators to produce fully interactive experiences based on their own expertise, without requiring programming skills.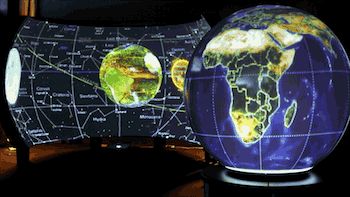 Users can build docent-guided presentations, user-driven experiences, and recorded scripts using movies, still images, and high definition video created for both standard and spherical (panoramic) media. Worldviewer simplifies the process of providing audiences with a fresh, continuously integrated interactive experience.
Worldviewer uses the Omnity "Perspective Projection Mapping" toolkit for projection mapping the earth visualization data onto any type of display surface using a wide variety of video projectors, lens, edge blending, stereoscopic, and camera calibration technologies. Omnity was devloped by Clement Shimizu and D'nardo Colucci for the Elumenati and was based on a publication titled OmniMap Perspective Projection Mapping authored by Clement Shimizu and com during graduate school.
Title: Elumenati Worldviewer
Credits: Clement Shimizu and the Elumenati (Clayton Hooker, D'nardo Colucci)
http://www.elumenati.com/products/software/worldviewer/